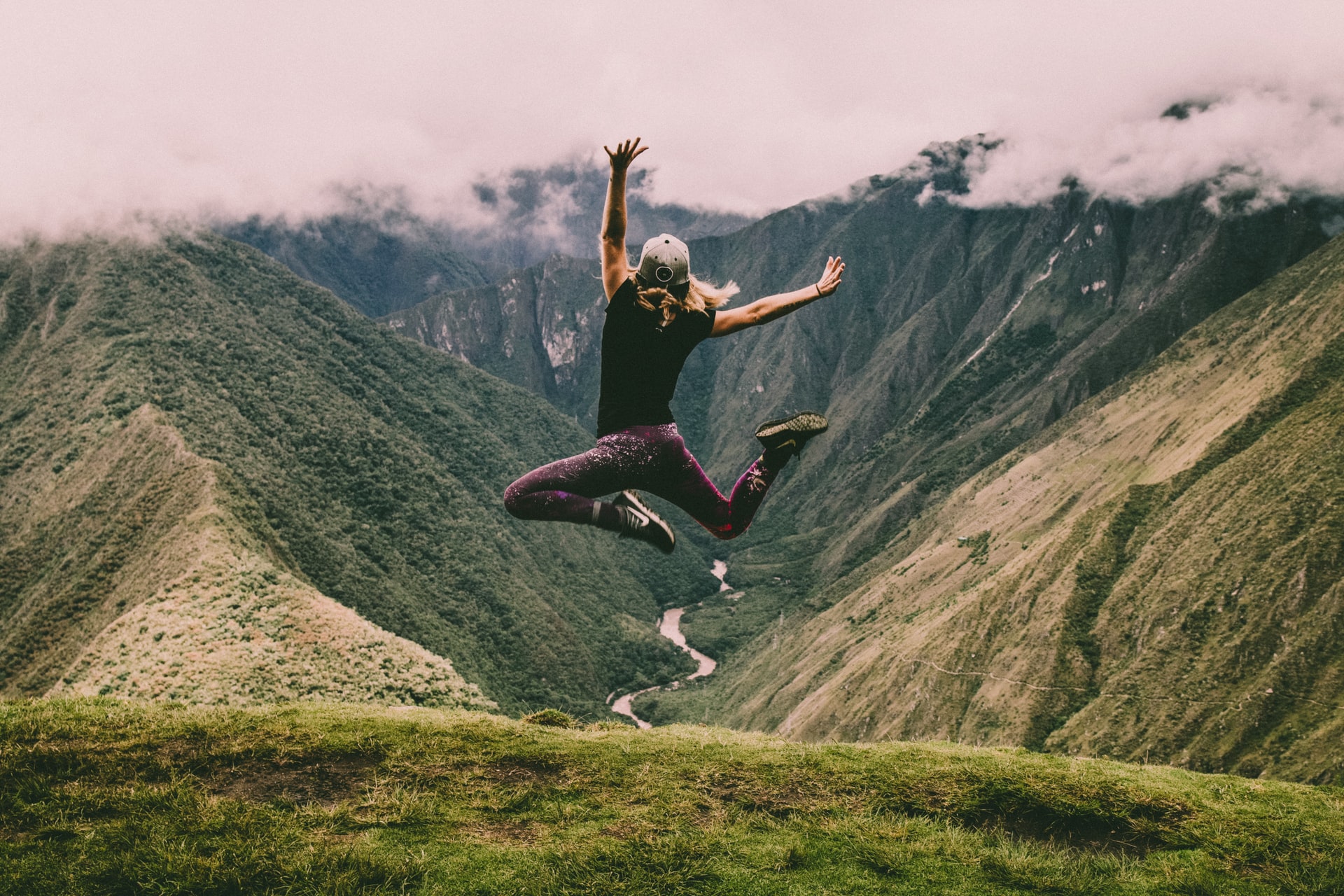 So it's a Monday morning and you're dreading the week ahead. Though it is a fine day for a fresh start. You lace up your sneakers and head out for a run. To your surprise, you go without headphones because today you are full of surprises. After you slab on the deodorant and finish a few dynamic stretches you head out the door to hit the pavement. The first few pounds might be a bit uncomfortable as you shake off the Sunday sleepies but then you start to get into the groove-your shoulders relax, your foot strikes just right and your head is held high. The clouds above are fluffy like Cool Whip and the morning breeze holds back the sweat. Your stride grows bigger and your arms start a sweet hammock swing. One mile down and your breath settles you in, another mile goes by without even realizing it. Your motion is like the ocean, nothing can stop you now.
A few more beats glide away before you're there with Scarlett O'Hara. With the wind sweeping you off your feet you're high among the stars, far away from any thoughts, pain, or any feeling at all. You may not have been smooched by Rhett Butler but you're certainly gleaming with a smile. The magic keeps you going for miles, it all depends on how far you let the wind carry you. There is nothing quite like this magic of a runner's high and only a few have ever experienced such euphoria. Today though, on this Monday morning you made it among the few.
The first time I experienced a runner's high was when I was 16. I remember walking through the front door & my father said "was there a cute boy out there, what happened to you?" He was wondering why I was smiling so big, the happiness lit me up. I've been a runner my entire life. In high school, I swam during the fall, ran track in the winter, & played lacrosse in the spring. Of the three, running had my heart. I was recruited to play lacrosse in college, at The Savannah College of Art & Design. My passion for running was obvious so in my junior year, I was offered a position to compete on the Cross-Country team the following year.
We trained in the fall and practiced every day with one day off. I chose Sundays to rest. With easy runs, workouts, & long runs, I clocked about thirty miles a week. While the newfound mileage was fun at first my runner highs faded with the distance. Running became all about racing. Racking up miles on long runs was the only time I escaped the noise from the hustle.
These couple of months were taxing on my body. I was constantly worried I'd lose my friendships with my lacrosse teammates because I wasn't practicing with them as I had every day for the past three years. So I made sure to be there for every extra sprint & 5 am lifts. I stressed about getting my art assignments done which meant carrying a body bag-sized portfolio cases on weekend bus rides to meets. I had an internship editing novels and I babysat on the weekends. But the thoughts that carried me fifteen miles, or more, was of the boy I loved who had a mental illness and used me to manage it.
The escape from this world was only found while running. It was silent from all thoughts. I started running with a ball cap on so no one would know it was me and stop to chat. I became hyper-focused on what I ate, eating only foods categorized as healthy, and then when I would starve myself of my favorite seasonal Oreos and then I'd binge eat the whole package after a night my boyfriend yelled at me in the streets of Savannah. He'd apologize the next morning after he "had to come to my house to get his medicine." So I'd forgive him and go for a run to burn off the calories. I counted every gram of food I ate and would only dare to eat bread on a Sunday.
I qualified for Nationals that season, closing out with my fastest 5k at 17:38. Though the high was only momentary. Most days I could barely get out of bed. I was so weak from all the running. By the time I crossed the finish line I weighed under 100 pounds. In two months I ran off 25 pounds.
I'll never forget the look on my mom's face when I came home that winter break. Her ghostly eyes shattered right through the wall I built. Up until that moment I thought I had it all under control, I always had my running under control. But I was using it to escape my pain. That heartbreak was what I needed to wake me up from what I was really running from.
With my mom's support, I found a therapist, who I felt comfortable with immediately. Dr. James helped me uncover the hurt from my childhood that I used to try and heal my boyfriend's hurt. He was the man I thought I was going to marry, and as a child of divorce I didn't want to give up on him no matter how much he was hurting me. Trying to juggle my social life, classes, and fixation on food was a forced way to have control over a relationship I had no real handle on. I'll never forget that first tissue pull, my healing had begun. I visited her three times that winter and then we chatted on the phone when I went back to school.
My recovery wasn't overnight, in fact, it's still a work in progress but I did eventually break up with the boyfriend and let that love go. I closed out lacrosse season and my teammates never stopped cheering me on. I graduated, got a job in San Diego, CA, and drove across the country for a fresh start.
Without a coach shouting turnover times or a race to train for, I was back to running for fun. Though it did take some time to kick the need to run thirty miles a week. I remember one run by the ocean, along Sunset Cliffs when my Garmin watch buzzed five miles. Immediately I began to sing "Woah. We're halfway there!" because back in the high school track days, the girl's varsity team would always sing together as we got to the halfway mark on our run. But this time I stopped, not feeling the need to finish the other half. The white caps roared against the rocky cliffs, bringing in the vast ocean from behind. The sound of the sea was the only song I wanted to hear. I stopped the timer and stood overlooking the blue waters before me. I was fully present amongst all the beautiful creations of God. On this run, I realized that it is a gift that I get to run and that's not something to abuse. Instead of running back home that morning I kicked off my sneakers and went for a swim in His wonderful work. This was real-life living on a prayer.
As I reflected on all the vicious patterns I created in past years I noticed there was one that held my soul strong. Sundays. It didn't matter the mileage or calorie count for the week, the words of my boyfriend or the assignment due the next day, Sundays were always spent by God. I always rested on Sundays because God did. I enjoyed bread because it is the reminder that Jesus gave His life for me. My church doors were always open and I could always count on my CBC family to cry out for help. Of all the times I tried to forget, Sundays were never forgotten.
Today, as I run along the Adriatic Sea living the European life I've always dreamt of, I treat every day like Sunday. Before a run, I thank God for the gift of rest and for waking me up to live another day. I eat a big breakfast with fresh bread from one of the many cornerstone bakeries, eggs, pancetta, spinach, and more and I always pray that it will nourish my soul, fuel my body and make my belly happy. When I hear the Eurasian collared dove sing it's morning whos and smells the white jasmine flowers on the trees I think of my family and pray they are safe on the other side of the sea. I pray most of all, that my running will never put fear in their eyes again. For the strangers I pass, I ask God to be with them. For the boyfriend I once loved I forgave, and I always pray that his hurt will one day be healed. I know that my best runs are when I put God before them. I run resting my miles in the hands of God and what makes it even more magical than a runner's high is that it's not rare at all, it happens every time I lace up my sneakers.
Written by
Tess St. John
Tess is a freelance writer with a deep passion to share the joys of running, cooking, and meeting new people. She is currently traveling Europe with her golden retriever, Maddie, and wants to pursue writing content that shares the many blessings that come from serving God.